Participate in the Cassini Hackathon, win 1,000 euros and other valuable prizes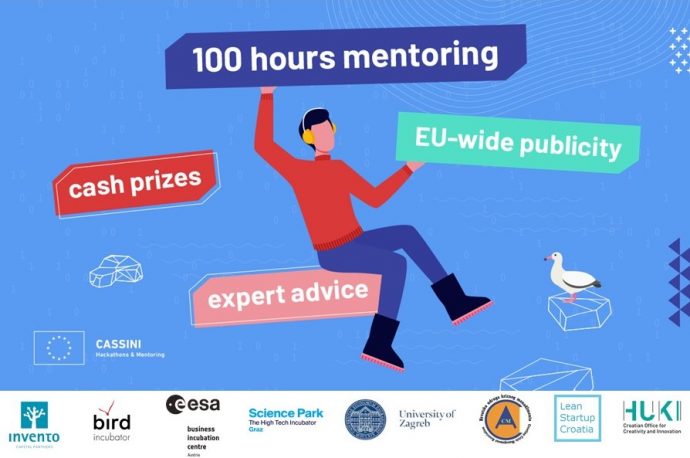 Best teams will have the chance to join the EU pre-incubation program of Space Hubs Network, managed by the European Space Agency Business Incubation Center Austria
Thanks to our partner European Space Agency Business Incubation Centre Austria we increased cash prize fond up to 3.000 EUR, therefore three teams will receive a 1.000 EUR cash prize.
The 2nd CASSINI Hackathon is an international competition of teams in the development of conceptual solutions, organized by INVENTO Capital Partners, an entrepreneurial accelerator for start-ups. The hackathon will take place on November 5-7, 2021, at the Bird Incubator in Zagreb and online.
The three winning teams will receive a prize of 1,000 euros. For the most promising teams, we have provided additional awards in cooperation with partners, such as incubation in the Bird Incubator, and participation in the EU-funded Space Hubs Network  pre-incubation program managed by ESA BIC Austria, which includes:
personalized 3-month mentorship to help entrepreneurs and early-stage startups further develop their business idea and concept
tailored mentorship that would lead them to validate product/market fit and increase their investment readiness
match with other support initiatives and incubation centers to encourage further growth
During the hackathon, teams will have excellent mentors at their disposal, as well as EU Space Data such as Copernicus, Galileo, and EGNOS. Željko Krizmanić will introduce you to the Bird programs, while Jeremija Hranjec will take you through the ESA BIC Austria programs.
Applications for the hackathon are open until November 3, 2021! APPLY NOW!
Hackathon participants in Croatia and 9 other countries across Europe will work on the development of conceptual solutions for one of the challenges of their choice:
Safe passage at sea – solutions that will enable boats and fishing boats to sail safely across the sea.
Life on land – solutions that will make it easier for people, plants, and animals to adapt to climate change.
Animal care – solutions that will help protect the biodiversity and natural habitats of wildlife.
Sign up until 25.10.2021 and listen to online lectures in a week 25.-28.10.2021. Then you can hear more about the Hackathon, and professional lectures such as Dražen Oreščanin, an expert in the AI ​​& big data industry, and Damir Matić will share his experience from the last Cassini hackathon with interested applicants.
All information about the Hackathon can be found at CASSINI Hackathons | Croatia. For a quick application a short guide is below:
Apply via the link that leads to the TAIKAI platform where you will apply through the Join challenge with basic information. After that, create a project, put together a team, and start solving one of the challenges! Join Discord because you will be able to communicate with the organizers, mentors, and other participants!
The organizer of the CASSINI Hackathon in Croatia is INVENTO Capital Partners with partners: Bird Incubator, European Space Agency Business Incubation Center Austria, Science Park Graz, University of Zagreb, Lean StartUp Croatia, Croatian Office for Creativity and Innovation, Croatian Crisis Management Association.
For all questions you can directly contact the organizers: This email address is being protected from spambots. You need JavaScript enabled to view it.