Do you want to share your energy?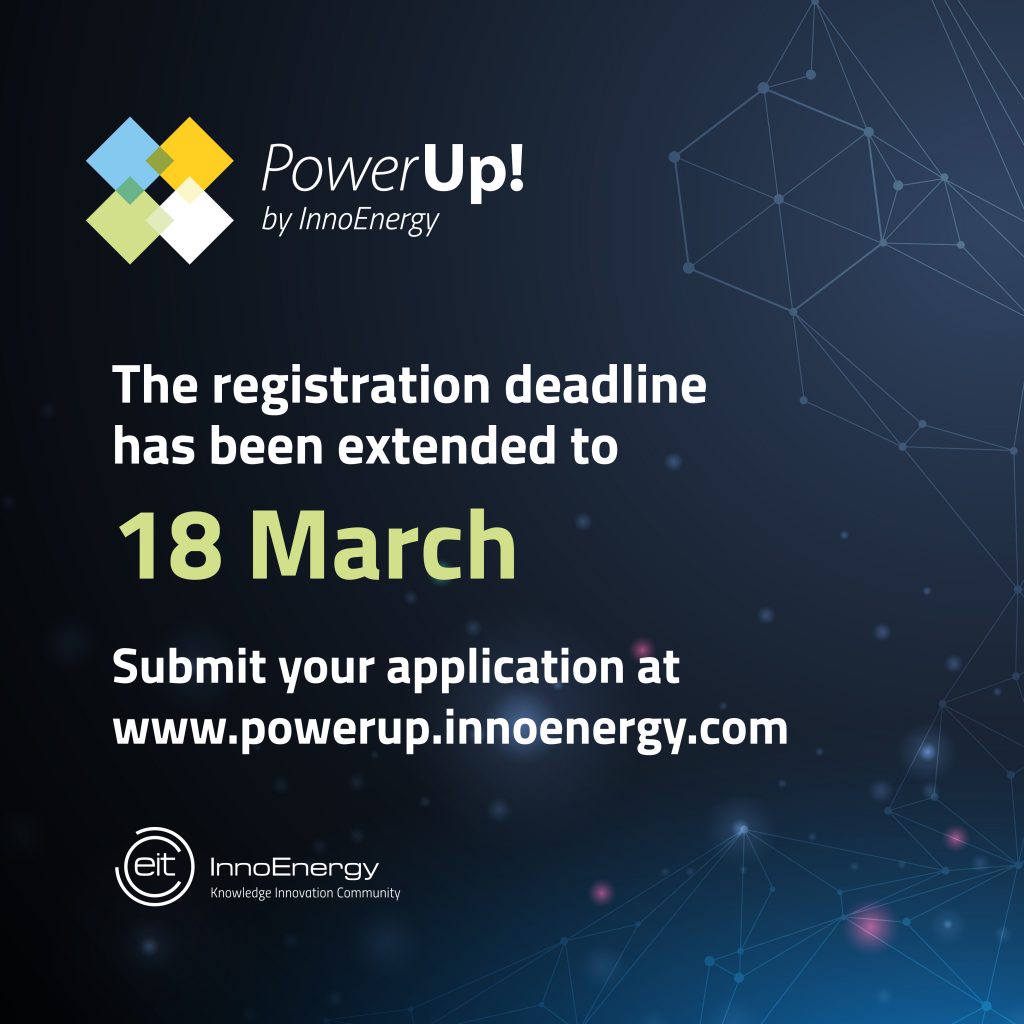 13 answers that could change your future
If you have a startup or an innovative idea and you are looking for investors, partners, experts or market opportunities, we would like to invite you to present your ideas to us.
1. Why? We are going to help you find and get what you are looking for.
2. Where? We will go on the biggest competition for startups in Central Europe together. The name of the competition is PowerUp! and it is organized once a year by InnoEnergy.
3. Who we are? We are representatives of InnoEnergy for Croatia and we would like to tell you more about the PowerUp competition and help you to apply for it.
4. Who is InnoEnergy? InnoEnergy is an investment fund, a company that invests about € 100 million annually in innovative solutions and cooperates with more than 385 partners – the largest industrial concerns, leading research and academic centers and innovative SMEs.
5. What is PowerUp? PowerUp! is the biggest competition for energy, cleantech, mobility, cybersecurity and smart city startups.
6. Why it is the biggest competition? – These numbers will show you:
PowerUp! 2019 is the 5th edition.
PowerUp! is open to startups from 24 countries.
The number of applicants is increasing every year.
7. Why should you apply? It is a competition with financial awards up to €50,000 and an opportunity of €150,000 investment! The best ideas get the chance to join Highway- the world's leading business accelerator specialized in sustainable energy.
8. When can you apply? Applications for the fifth edition of the competition are open. You have to fill in your application (two page document) and your pitch deck.
9. You will get our help – two days of training workshops called the bootcamp will be organized with the aim to improve your business model and pitching skills. There are II phases of the competition selection (on country level and international) and the winner on the country level will get double help.
10. Why are the bootcamps important? To make you ready for the big stage and competition!
11. What you are competing for? For financial awards and investment, attention of big industry players looking for energy solutions and the media.
12. What can you expect?
After two days of preparation on the bootcamp with mentors specialized in business coaching and pitch training, you will pitch your project in front of the jury and audience first on the Country final, organized in Zagreb, Croatia.
II. Our Judges will select the most interesting project The best one will be invited to the Grand Final in Krakow, Poland.
IV. All country finalists will go through intense bootcamp again to prepare their final pitch for the Grand Final.
 V. You will have a 3-minute presentation (pitch) in front of the jury members.
VI. During the Grand Final, 14 startups will present their solutions in front of investors, audience and the media.
13. Submit your application at: www.powerup.innoenergy.com and take a part in the PowerUp!
The challenge is big but our goal is simple: Croatian winner(s)! Innovation is the answer
Let's PowerUp!
InnoEnergy Hub Croatia is the place where you can receive all information about InnoEnergy and PowerUp!
Contact us at: This email address is being protected from spambots. You need JavaScript enabled to view it.