SMART AND EFFICIENT BUILDINGS AND CITIES
---
The Market
One of the big challenges of the smart power grid is how best to integrate new distributed energy resources into the low- to medium-voltage distribution domain. Active substations can support grid management and fault recovery over the last mile of distribution, but require affordable, cost-effective and low-power measurement and monitoring technologies to do so.
The Product
The Active Substations project is working on the development of a number of solutions, including a medium- voltage (MV) sensor, a remote terminal unit (RTU), an acoustic power detection device, and directional fault passage indication solutions. These solutions deliver improved monitoring capabilities for proactive and precise asset management.
The Project
The Active Substations project has its roots in research being conducted at EnergyVille – an association of KU Leuven and the VITO research institute. The founding partners formed an innovation project, funded by InnoEnergy, and were joined by researchers at AGH and KTH, and industrial partners Eandis, Vattenfall and Gas Natural Fenosa, among others.
When the project needed a new commercialising partner, InnoEnergy turned to its extensive network to find the right organisation. It asked Bausch Datacom, a specialist in data communication for energy, automation and machine-to- machine markets, to join the consortium.
Bausch started work on a patented sensor technology, capable of measuring and monitoring MV voltage parameters without opening the cross-linked polyethylene (XLPE) cable to the core. The goal is to create compact and low-cost sensor solutions that can easily be retrofitted into existing substations.
Bausch already had extensive contacts among Europe's DSOs. However, by developing monitoring and measuring solutions it has extended its product portfolio, expanded the business, and seen new markets and opportunities open up – aided by access to InnoEnergy's network. The project is currently working towards the development of industrialised prototypes to be tested by DSOs by the end of 2016.
Consortium partners
AGH: University of Science and Technology, Bausch Datacom, Eandis, EnergyVille, Gas Natural Fenosa, IREC: Fundacio Institut de Recerca de l'Energia de Catalunya, IST: Instituto Superior Técnico Lisboa, KTH: Royal Institute of Technology, STRI AB, TU/e: Technische Universiteit Eindhoven, UPC: Universitat Politècnica de Catalunya, Vattenfall.
---
InnoEnergy In Action With :
Active Substations
Giving distribution substations an active role in energy management and fault recover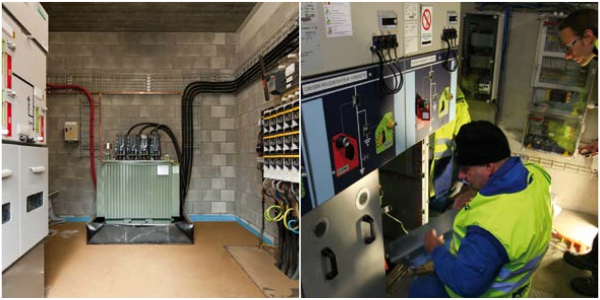 ---
"Not only is working on the project helping us develop new solutions in our existing market segments, it is creating new commercial possibilities for us. When we add InnoEnergy's commercial contacts to our existing customers we have a very strong foundation from which to expand our business."
Rik Verheyen, Business Development Manager, Bausch Datacom