Working with EIT InnoEnergy gives you access to the most dynamic, diverse and vibrant community in the field of the sustainable energy. More information find in this brochure: See Brochure

EIT Hub Network
---
Our main goal in Central and Eastern Europe is to build a sustainable structure of partnerhsips, aiming to increase the innovation capacity within the region. To achieve this we have built a Hub network with trusted Partners, who run our local operational units as EIT InnoEnergy Hubs.
EIT InnoEnergy is the key player within the CEE region, supporting investment at every stage of the journey from classroom to end customer. Universities are an unlimited source of innovation projects. The research that is conducted in the labs and their subsequent products has the potential to change the future trajectory of the energy sector within Europe. The dynamic start up ecosystem within the CEE region highly depends on the dedicated partners and passionate entrepreneurs.
To be effective with such demanding challenges in front of us we need believers, who will have strong skills and knowledge, but will also dare to change the current and design with us the future of the region.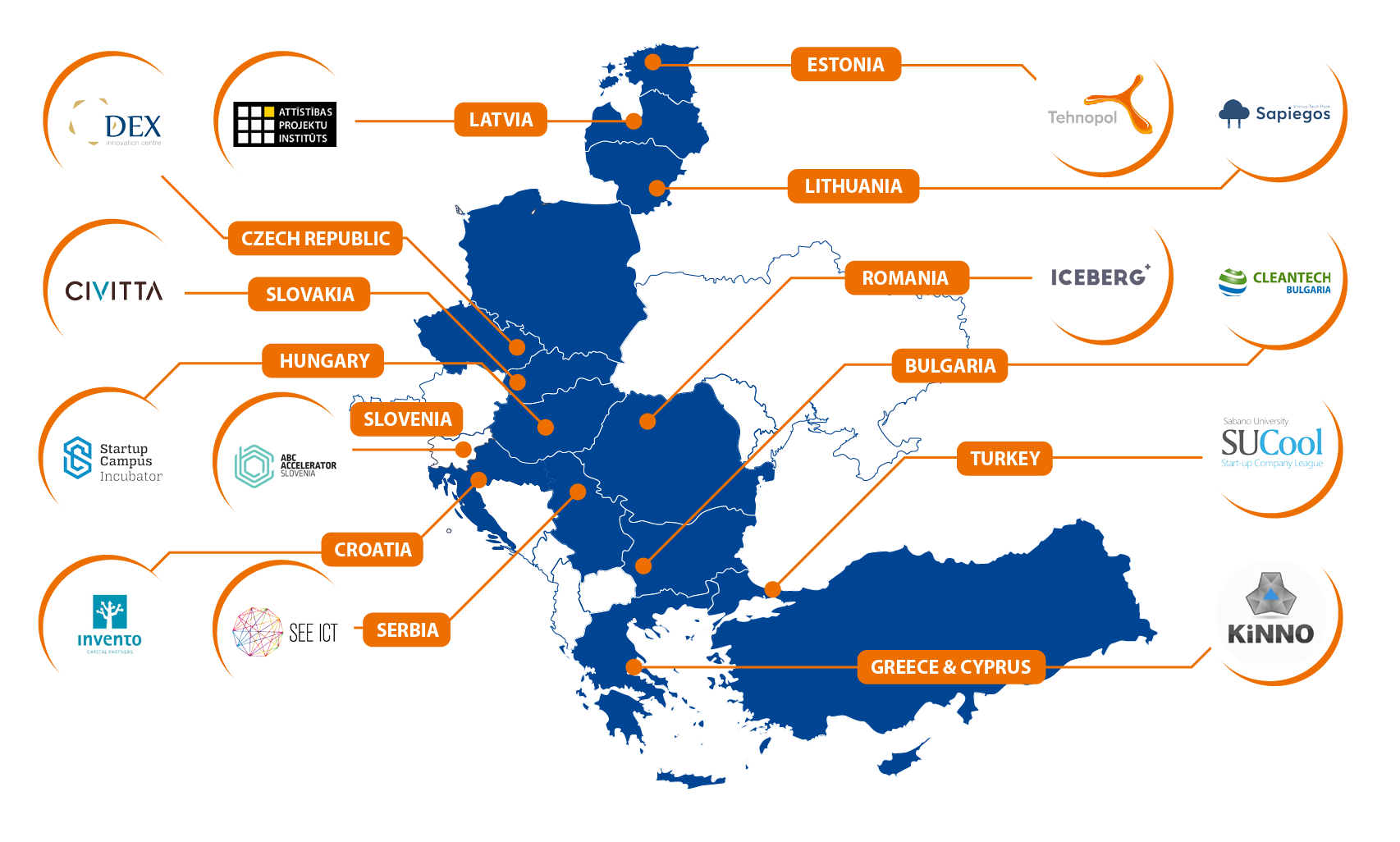 InnoEnergy Hubs are supported by the InnoEnergy Power Alliance - an initiative funded through the European Institute of Innovation & Technology Regional Innovation Scheme (EIT RIS), which is a framework developed to increase the innovation capacity in regions in Europe not directly benefitting from the EIT or InnoEnergy activities.
OUR SOLUTIONS TAILORED TO YOUR NEEDS
---
Our solutions: more than innovative
At InnoEnergy, sustainability is about more than lowering emissions. True sustainability also means an industry that's commercially viable, endlessly innovative, and highly competitive. We make this possible by supporting sustainable energy innovations which provide industry with risk free, pioneering new technologies that reduce energy costs, increase system performance, decrease greenhouse gas (GHG) emissions, create jobs, and increase competitiveness.
POWERUP! HIGHLIGHTS
---
PowerUp! is a yearly challenge for entrepreneurs with the energy to change the world. PowerUp! is open to startups, scaleups and SMEs from the Central and Eastern European region. The best entrepreneurs will be invited to InnoEnergy programmes with investment up to €5.000.000 and support.
Development of team skills and competences
Access to invaluable expertise and R&D facilities
Development and commercialisation of products
Internationalisation, business development and market expansion
Access to European VCs, business angels and InnoEnergy funds
Every year PowerUp! has at least 13 Country Finals which are being co-organized by InnoEnergy Hubs. Thanks to the network, young entrepreneurs from Central & Eastern Europe get a chance to work with the best European mentors and business coaches. Big value of this challenge is education and business mentoring.